Who we are
Senja Coffee & Memories
Senja Coffee pertama kali diperkenalkan di Barat kota Jogja, tepatnya di Jalan Tatabumi, Sleman. Diatas bangunan kecil berbentuk Joglo Jawa, dengan 7 kursi didalamnya, menjadi langkah awal Senja Coffee datang meramaikan Coffee Shop di Jogja, 2018 lalu.
Our Stores
Nikmati senja bersama secangkir kopi, spesial dari kami. Dengan tempat yang cozy dan dukungan internet up to 100MBPS menjadikan senjamu makin sempurna.
Temukan kami di:

Our customers say
Testimonials
Manaraceko Manoppo
It is just renovated with bigger space. The coffee is sooo good, my favorite is 'Ice Coffee Gula Aren'. It is also launched new app with reward system. Definitely check the new app if you are frequent buyer.
Jeanne Elisabeth
One of newest coffee shop in Western part of Jogja. It uses coffee beans from Lampung, and it has its own roastery. The interior is dominated with timber and white paint to keep it simple and minimalist. It's comfy for lazy talks or studying and working. The Wi-Fi is fast enough. The music is also not so bad. And it's affordable! Don't forget to register as their member with some benefits. Love their ice coffee salted caramel and strawberry yoghurt cake ❤️
Yesaya Ekoliesanto
good coffee at normal price.. elegant interior with old dingdong gamehouse.. the best that recently added is their coffee combine with durian and ketchup.. the tast is good for me.. cost 32k
Hafidh Yusuf Hardiansyah
Good place for hang out and chillin with your friends, also had a variety of menu that maybe youll like to try, thats it.
Herbambang Yusuf
The coffee shop is very cute. They provide coffee and non-coffee drinks. They also provide main-courses and snacks. It is close order, so make sure you pay after you make some orders. The prices are affordable since this area is popular with students. The parking area is in front of the street, unfortunately it is not guarded. There are two types of sitting area here, smoking and no-smoking sitting area. There are toilets and wastafel. They provide free wifi for customers. You can find electricity stations everywhere. Over all, it's a nice place to chill out or do some tasks.
Special offer
GET 1 FREE CUP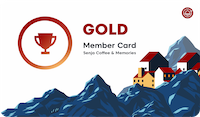 Download our APPS and TOPUP minimum 50K, so you will get voucher 1 free cup all drink variants.